This is the fourteenth of a new series of posts on ASP .NET Core 3.1 for 2020. In this series, we'll cover 26 topics over a span of 26 weeks from January through June 2020, titled ASP .NET Core A-Z! To differentiate from the 2019 series, the 2020 series will mostly focus on a growing single codebase (NetLearner!) instead of new unrelated code snippets week.
Previous post:
NetLearner on GitHub:
Repository: https://github.com/shahedc/NetLearnerApp

v0.14-alpha release: https://github.com/shahedc/NetLearnerApp/releases/tag/v0.14-alpha
NOTE: The NetLearner suite of apps won't be updated to .NET 5.0 at this time, so you can check out the new template-generated projects in an experimental subfolder:
In this Article:
N is for .NET 5.0, VS2019 Preview and C# 9.0

Visual Studio 2019 Preview

.NET 5.0 Preview 2

C# 9.0 features

ASP .NET Core 5.0 Project Types

Migrating from 3.1 to 5.0

References
N is for .NET 5.0, VS2019 Preview and C# 9.0
As we have crossed the halfway point in this series, now is a good time to take a step back and look forward at .NET 5.0. This is the next iteration of .NET Core, which skips over the number 4, and unifies all flavors of .NET into a single .NET (i.e. .NET Core, .NET Framework and Mono).
In order to use .NET 5.0 (Preview 2 as of this writing), we need to install Visual Studio 2019 v16.6.0 Preview 2.1. This will give you access to all the latest (preview) project templates for ASP .NET Core 5.0. Since C# 9.0 is still early in development, we will just briefly touch on upcoming/proposed language features.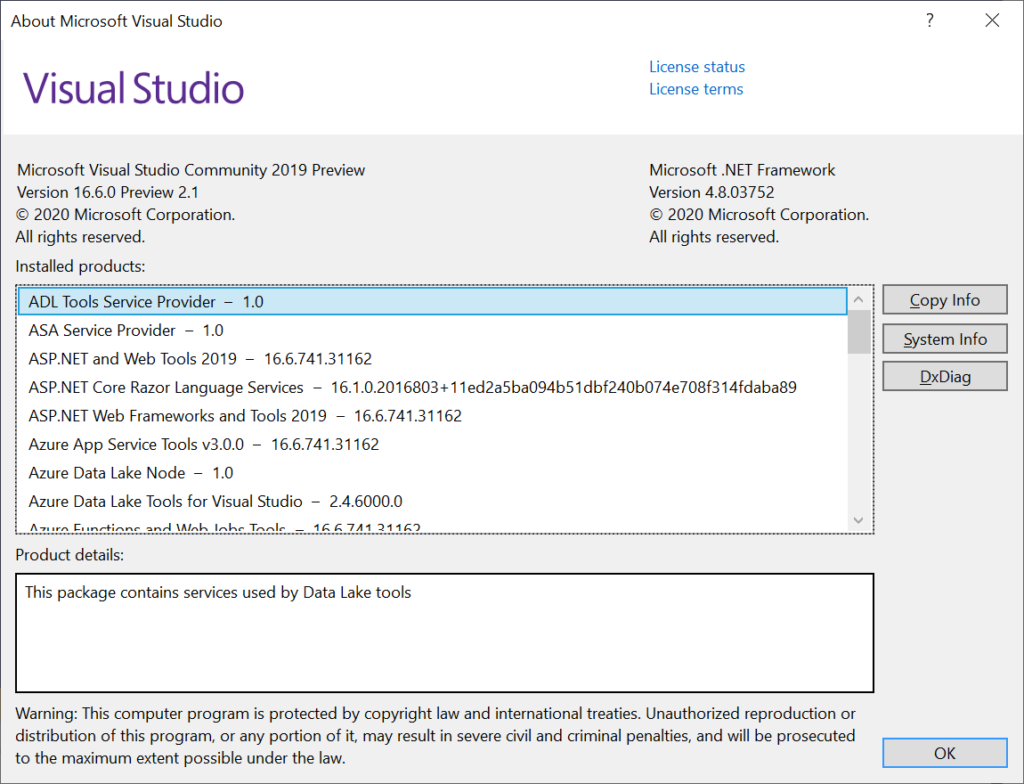 Visual Studio 2019 Preview
Visual Studio 2019 has been out since early 2019, so you can grab the latest stable version from the main download page. Visit any of the URLs below to select the edition you need:
In order to get the latest Preview version, you must visit the special download page for Previews:
As before, the Community Edition (comparable to Pro) is free for students, open-source contributors and individuals. The Pro and Enterprise editions add additional products and services from small teams to enterprise companies.
But wait! What if you can't stay online for the length of the installation or need to reinstall quickly at a later date? If you need an offline installer, check out the instructions on the following page:
What are some cool new and improved features to be aware of? There are so many that I stitched together a series of tweets from Amanda Silver (CVP of Product for Developer Tools) and created the following thread in April 2019:
The aforementioned thread highlights the following features. Click each hyperlink in the list below for more info on each.
Live Share: Available as an extension in VS Code, Live Share is installed by default with VS2019. Easily collaborate with other developers while coding in real-time!

Intellicode: Use AI to write better code. Choose to share what you want with others or keep things private.

Git-first workflows: Choose to create a new project from a source code repo or use a template. The new start window provides more options up front.

Debug search: Search while debugging. Type in search filters in the Watch, Locals, and Autos panels.

Snapshot debugging: Available in the Enterprise Edition, snapshot debugging allows you to get a snapshot of your app's execution after deployment. This includes cloud deployments, Azure VMs and Kubernetes containers.

VS Search: Dynamic search results include commands, menus, components and templates. Note that this was formerly know as Quick Launch.

App Service Debugging: Attach the debugger to your app running in Azure App Service!

App Service Connectivity: Connect your web app to Azure App Service with ease, including App Insights monitoring.

Azure Monitor: Use Azure Monitor to get additional insight on your deployed app!
If you prefer to sit back and relax and just watch a recap of the launch announcements, I put together a handy list of YouTube videos from the VS2019 launch event. This playlist kicks off with the 50-minute keynote, is followed by a string of videos and ends with a cumulative 7-hour video if you prefer to watch all at once.
来源:U5网赚博客(QQ/微信:313919848),转载请保留出处和链接!
本文链接: https://www.u5fuye.com/post/51108
相关阅读:


android studio开发android工程,SVN不需要提交文件

开始安装 ASP.NET (4.0.30319.18408)。 出现了错误: 0x8007b799